Salads can be a bit boring, but this strawberry spinach salad with dijon bacon dressing will have you craving salads every day!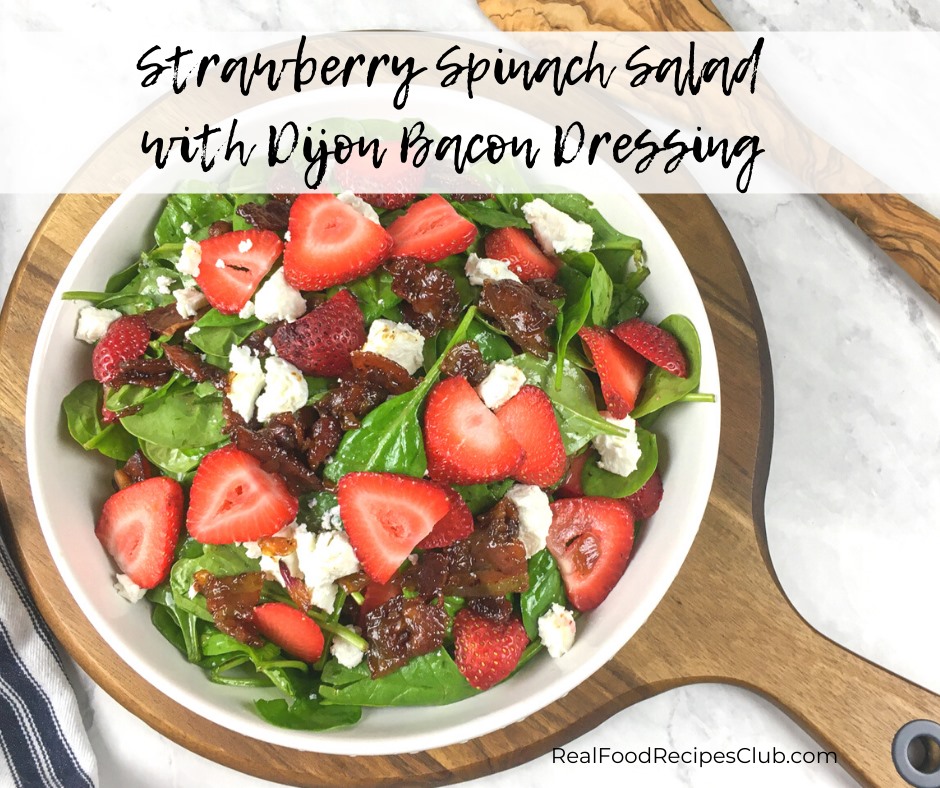 Strawberry Spinach Salad with Dijon Bacon Dressing
Tip: Turn ventilation on over the cooktop before adding the red wine vinegar to the skillet. This will lessen the impact of the fumes.
Prep time: 20 minutes
Cook time: 15-20 minutes
Serves: 4
Hot Bacon Dressing Ingredients:
6 slices thick-cut bacon*, cut into 1" pieces
½ c. red onion, diced small
¼ c. red wine vinegar
2 t. honey, preferably local
½ t. Dijon mustard
¼ c. extra virgin olive oil
Sea salt and black pepper, to taste
*I recommend nitrate-free turkey bacon…but it's up to you
Salad Ingredients:
4 c. baby spinach, rinsed and patted dry
8-10 large fresh strawberries, sliced
4 oz. goat cheese, crumbled
Sea salt and black pepper to taste
Directions:
1.Add bacon to a large skillet set over medium heat. Cook, stirring frequently, until crispy, approximately 10 minutes. Transfer cooked bacon with a slotted spatula to a plate lined with paper towels. Blot excess grease from bacon with a paper towel and set aside.
2. Carefully drain and discard all but one tablespoon bacon grease from the skillet and return to heat. (Wipe any drips with a thick, damp cloth to prevent a flare up if cooking over flame). Add the red onion and cook, stirring occasionally, until soft, approximately 4-5 minutes.
3. Add red wine, honey, and Dijon mustard. Season with salt and black pepper, to taste, and stir to combine. Cook, stirring constantly, until thoroughly combined and heated through, approximately 2 minutes.
4. Reduce heat to low and stir bacon and extra virgin olive oil into the skillet until combined. Continue simmering on low heat while preparing the salad.
5. Add the baby spinach, sliced strawberries, and goat cheese to a large mixing bowl. Pour hot bacon dressing on top and toss to combine. Transfer salad to a large serving platter or individual chilled plates and serve immediately.
Enjoy!