This quick and easy black bean and sweet potato soup will be a crowd-pleaser any time of the year!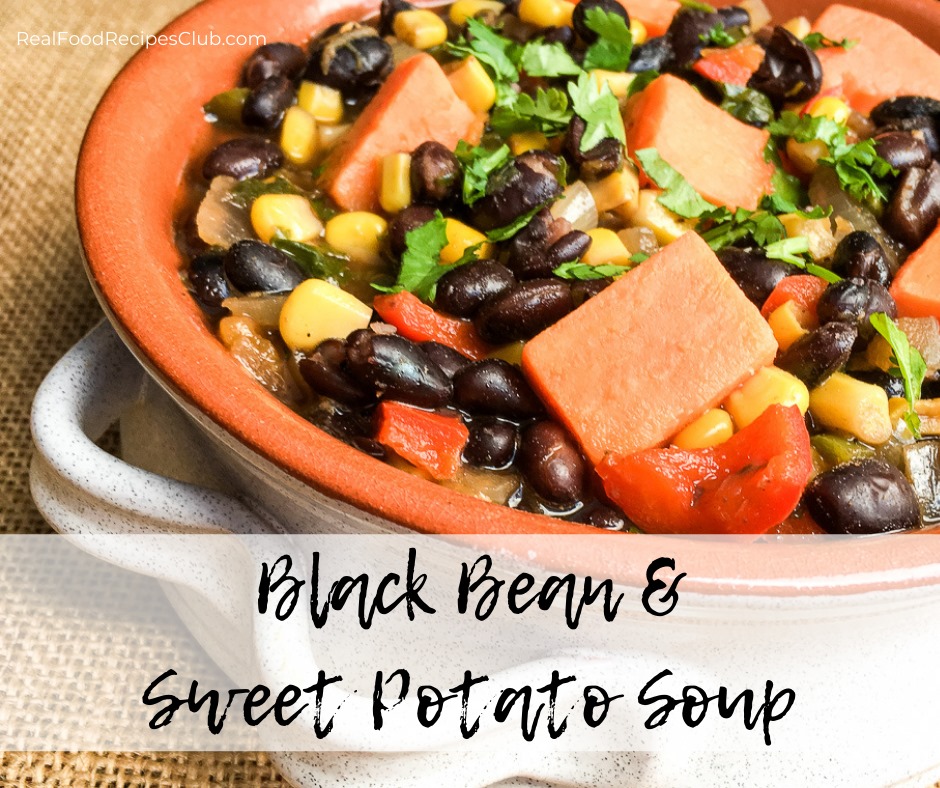 Prep time: 10 minutes
Cook time: 25-30 minutes
Serves: 4
Ingredients:
2 T. extra virgin olive oil
1 small red onion, diced
1 medium green bell pepper, diced
1 medium red bell pepper, diced
Sea salt and black pepper, to taste
½ t. crushed red pepper flakes
1 T. ground cumin
2 t. chili powder
½ t. dried oregano
2 large sweet potatoes, peeled and cubed
3 T. tomato paste
2 15-oz. can black beans, rinsed and drained
3 c. vegetable broth
1 c. frozen corn
¼ c. fresh cilantro, chopped
2 T. fresh lemon juice
Directions:
1. Heat olive oil in a large soup pot over medium heat and add red onion and bell peppers. Season with salt and black pepper, to taste. Cook, stirring occasionally, until the veggies become soft and fragrant, around 4-5 minutes.
2. Add crushed red pepper, cumin, chili powder, and dried oregano. Cook, stirring occasionally, until the spices become fragrant, approximately 1-2 minutes.
3. Add sweet potatoes, tomato paste, and black beans. Season with additional salt and black pepper, if desired, and stir to combine. Add vegetable broth and increase heat to medium-high. Bring to a boil, then immediately reduce to medium-low. Cover and simmer for 15-20 minutes or until the sweet potatoes are fork tender.
4. Stir in the corn, cilantro and fresh lemon juice. Taste and adjust seasonings, as desired, before serving.
Recent Posts
link to Strawberry Spinach Salad
Salads can be a bit boring, but this strawberry spinach salad with dijon bacon dressing will have you craving salads every day! Strawberry Spinach Salad with Dijon Bacon Dressing Tip: Turn...
link to Avocado Deviled Eggs
If you love avocado as much as I do, you'll love this twist on standard deviled eggs! Prep time: 10 minutes Cook time: 15 minutes Serves: 4 Tip: Add white vinegar to the water when making...